Why it might be time to say, 'Malinga is dead. Long live Malinga!'
When I first saw Lasith Malinga bowl, I jumped up from the couch and screamed, "That's not legal!" I am sure I wasn't the only one. In fact, I am willing to bet that I was in the majority. What wasn't obvious back then and what is quite painfully plain in retrospect is that I had forgotten the law and I had substituted conventions for rules. Frankly, the world hadn't seen the bowling arm to go so low as to become perpendicular to the pitch.
The fact that Malinga could generate so much pace and swing with such unerring accuracy with such an action is a tribute to his body makeup and the innumerable hours he seems to have spent improving and perfecting his craft. Pace and accuracy are, of course, the most important determinants for a fast bowler to be effective but in the case of Malinga, his action added a lethal and decisive edge.
In his article "It's all in the arm angle", John Hotten talks about how the top baseball sluggers of the past decade failed to even connect deliveries bowled by the top female softball pitcher from the same time, Jennie Finch. These were sluggers who were hitting 95mph round-arm throws from baseball pitchers regularly out of the park. What first started as sideshow/gimmick for a game turned into a series of showdowns where Finch struck out one legendary hitter after next. And it wasn't just getting struck out, the batters were failing to even connect the 65mph underarm softball pitches by Finch.
The reason, of course, was the angle of delivery. Not only was Finch delivering her pitch from somewhere near her knee, she was also pitching from about 20 feet closer to the batter. The article talks about research which shows how a batsman picks up clues from the bowlers stride and approach to make calculations that can enable him to respond within milliseconds to a ball that might seriously injure him if he fails to compute correctly. If the angle of delivery is radically altered, the template and the heuristics fail and the batsmen inevitably err. This is why, in my opinion, Malinga represents the greatest innovation in fast bowling since reverse swing.
Repercussions of Malinga's round arm action
I wish though that he had come onto the scene slightly (just a bit) later than he did. It was in 2004 when he was selected for the first Test against the great world-beating Australian team and took 6 wickets in the match. Too early because the T20s weren't in vogue back then. And that was the format Malinga was always best suited for.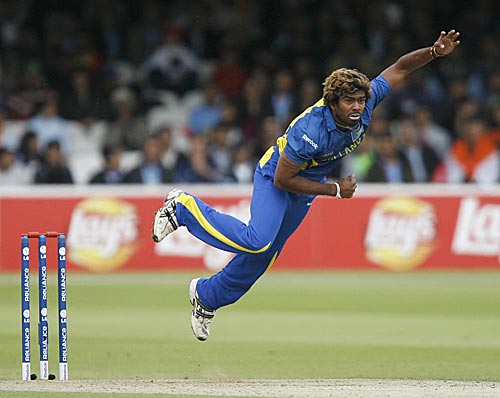 Too early because it was obvious that this action would tear him apart. The round arm action creates more strain on the bowling arm and the body than the orthodox version. Malinga retired from Test cricket in 2010 having played only six years and 30 Tests. A very wise career decision, of course, but it also points to the concerns his fans have as to his overall longevity.
Fast bowling is perhaps the most physically punishing of all the cricketing activities and has the highest injury rate as well as the highest casualty (think of Shane Bond). Malinga himself has had surgeries done on his ankle not less than two years back. But he had still recovered and retained his status as the world's most feared one day and T20 bowler. That is, until this season of IPL.
What Malinga's indifferent form means for Mumbai Indians
It's true that Mumbai Indians have had the worst of starts this season, but their batting hasn't been that bad. And for a long time their problem had been their batting order's inconsistency. This season, however, Rohit Sharma and Keiron Pollard have come very good and they have finally found some stability at the top.
What has severely let them down, on the contrary, has been their bowling. And the primary reason for that is the fact that Malinga hasn't really clicked. Even in the most recent match against RCB, he was taken apart by AB de Villiers in one over and ended with figures of 1/35 from his four overs.
And that has been the trend this season. Malinga has leaked 8.85 runs per over in IPL 2015 and has averaged 35.4 runs for a wicket. For someone who averages 18.44 runs a wicket and who has an economy rate of 6.67 over his career in T20s, this is no cause for celebration.
But statistics apart, it's the manner in which batsmen have dealt with him that has been more concerning. AB is an exceptional batsman who can counter and dominate any bowler in the world but when you have batsmen from five teams picking up and hoisting you over the ropes, it's a problem. Steven Smith, Suryakumar Yadav, Dwayne Smith and Brendan McCullum have all gotten the better of him. That doesn't usually happen. Malinga has been way too consistent and lethal over the years for batsmen to dominate him for so long.
Unless, of course, they have added the heuristics of his action to their mental makeup and are picking him up much better than before (all the batsmen who have walloped him have faced him many times before). Unless his line and length have been wavering a little. Unless his pace has slowed down. Maybe Malinga is going through that rare bad form phase (something we haven't seen much from this Sri Lankan) or maybe this is the beginning of the end of the greatest innovation in fast bowling this side of 2000.
Bottom-line: Mumbai Indians need to do a serious rethink about their bowling line up and provide it the right mix if they have get anywhere this season, because their bowling spearhead seems to have lost the bite that made him one of the most feared fast bowlers in the world.
Source: Sportskeeda