Misbah-ul-Haq: Pakistan's Misunderstood Leader
Two cricketing icons, Shahid Afridi and Misbah-ul-Haq, played their final ODI games for Pakistan last week – during the quarterfinal defeat at the hands of hosts Australia. Looking at the number of times Shahid Afridi has re-emerged out of retirement, fans are entitled to question the above assumption though!
Either way, BoomBoom Afridi, much loved by fans globally, will be remembered for long. Generations will aspire to attain Afridi's cricketing skills. But for all my money, I wish Afridi had grown up with Misbah's unflappable temperament.
Misbah-ul-Haq has always been a man of his own beliefs, principles, and team. Despite years of being the butt of jokes, vilification and calls for being dropped, Pakistan cricket fans must thank their board for keeping one stable head on the field for close to eight years.
The swansong
Misbah led Pakistan at Adelaide against Australia in his final ODI game. A game he was expected to win minus four premier players – Saeed Ajmal, Mohammad Hafeez, Mohammad Irfan and Junaid Khan. But Misbah left the stage with his head held high. He finished the World Cup with a batting average of 50.
To understand Misbah's importance, the second best run-getter for Pakistan was Ahmed Shehzad with an average of just 32 in an otherwise high-scoring tournament. The Pakistani captain even hit seven 6s in the event, one more than Afridi.
Misbah finishes his ODI career with most runs as captain of Pakistan. He may not have the charisma of Imran Khan, the street smartness of Javed Miandad, the gift of Inzamam-ul-Haq or the skills of Wasim Akram, but he still was the only person who made a shambolic Pakistan performance look like a fighting one.
The misunderstood wall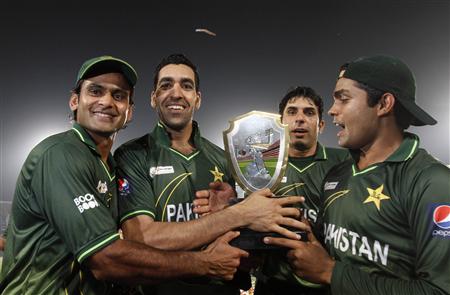 But, masses will remember him for all the wrong reasons.
After an inconsistent international career start in 2001, Misbah didn't give up. It was the sheer weight of domestic runs which got him back into national reckoning in 2007 for the T20 World Cup. At the age of 33, that was a sign of his fighting spirit.
Pakistan reached the final of that event to lose a thriller to India. Sadly, jokes flew around how Misbah had failed the team at the final hurdle. Chasing 158 to win, Misbah came to bat at 65/4, but lost two of his partners soon to find Pakistan deep in trouble at 77/6. He scored a fighting 43 and aided the tail to come within 6 runs of winning the cup. And then scooped a catch to Sreesanth at short fine leg – it was matter of inches, and the rest they say, is history.
Misbah will also be remembered for his slow batting at the 2011 World Cup semi-final in Mohali – on the night the label 'tuk-tuk' Misbah arrived. Chasing 261 to win, he came to bat at 103/3 after 23 overs and in his first 42 balls, scored a measly 17 runs with 27 dot balls. During this period, Pakistan's asking rate went up from a tough 6.07 to a nigh impossible 8.45. Misbah probably wanted to hold wickets and take the game to the end, but ran out of partners. The strategy didn't work and he became the scapegoat as Pakistan lost by 29 runs. There are jokes like 'Misbah is still batting at Mohali' even today.
The tuk-tuk charge got amplified when last month at Adelaide, he again came under criticism for slow batting in Pakistan's opening 2015 World Cup fixture. That in all three instances, fierce rivals India were the benefactors, sort of rubbed it in harder. But in all three encounters, Misbah was Pakistan's last hope after most others had disappointed.
Bat the talk
With the joint fastest century and fastest fifty in Test matches (vs Australia, Abu Dhabi, 2012), it's ironical that he may be remembered more as 'tuk-tuk' player in ODIs. And that would be missing the point. Misbah has been extremely consistent. He has amassed 5122 ODI runs with a sound average of 43.4. To put things in perspective, Afridi finished his ODI career with an average of 23.5, although at a much superior strike rate. But between 2007-2015 when Pakistani wickets fell like dominos, what did they need more – a Misbah with 43-run average at a strike rate of 73 or an Afridi with an average of 23.5, but strike rate of 114? You decide.
Needless to say, Misbah wore the national colours with pride and over due course achieved some milestones his predecessors would be proud of too.
Second captain from Pakistan to win the Asia Cup (2012).
First captain from Asia to beat South Africa in South Africa in an ODI series.
Leading ODI scorer in 2013 with most fifties.
Leading ODI run scorer amongst batsmen never to have scored a century.
Seventh best T20 average – 37.5.
Misbah will be Missed
Yet in his case, numbers hardly tell the entire story. The relative mediocrity around, the circumstances and how he got the team to preside over the storm should be the criteria for assessing this legend.
In March 2009, just when the team was shaping for a better future, a terrorist attack on Sri Lankan team bus at Lahore, pushed Pakistan cricket back by years. Ever since that event, no cricketing nation has dared to travel to Pakistan. A year later, match fixing charges rocked Pakistan cricket as chaos and instability reigned supreme.
Thankfully, Pakistan Cricket Board (PCB) saw sense amidst it all. In 2011, they handed over the captaincy to the one player who they saw could lead Pakistan through this turmoil for a good few years and bring some sense of purpose around him.
In some ways, the PCB followed the BCCI model and opted for a cool, calm head and didn't get constrained by the cricketer's age. Misbah was 36 then, and he, in turn, followed the MS Dhoni model ofpreferring to bat in the middle or lower middle order to give some stability and calmness while closing matches.
PCB will enter a similar dilemma in coming days, in search of a captain who would have the same unflappable temperament to replace the outgoing Misbah.
Pakistan's current generation of players don't know what it feels to sweat it out donning the national jersey in front of own friends and families. Constant touring to neutral locations also significantly deprive them of free time to spend with friends and families. They don't get to play at money-spinning high profile tournaments like IPL. Some of their former star players, instead of helping the current situation, are more seen making irresponsible statements, mocking the current players in television studios. And now the team will have a new captain to deal with. The successor will realize fast the magnitude of problems what Misbah was managing. The public too will, one day (hopefully).
Thankfully for Pakistan, his tuk-tuk will chug along in Test matches and be the much required ingredient and influence over upcoming players, as their ODI team sets onto embark on a new journey.