Cricket World Cup 2015: New Zealand Re-write World Cup Records
ICC World Cup 2015: New Zealand re-write World Cup records: England having last met the host Australia in their first world cup encounter this summer, met the other host New Zealand today. Eoin Morgan won the toss and decided to bat first. At 104/3 in 25 overs it looked like a good enough decision by the English captain as chasing as always been difficult at Wellington but a spectacular catch by Adam Milne off the veteran Daniel Vettori sent the captain back to the pavilion. This started what is now thought to be the most disastrous middle order fail by a Test nation in World Cup History. Well set at 104/3, England were bundled out at 123 courtesy Tim Southee who took 7 wickets, 6 in his later spell, and registered his career best bowling figures.
If this ridicule was not enough for England and their fans, New Zealand captain Brendon McCullum started off the run-chase with a flurry of boundaries and sixes and after 9 overs, New Zealand were already 112/1 and needed just 12 runs in 41 overs unless umpires decided to have a lunch break contrary to the opinion of many fans in the crowd.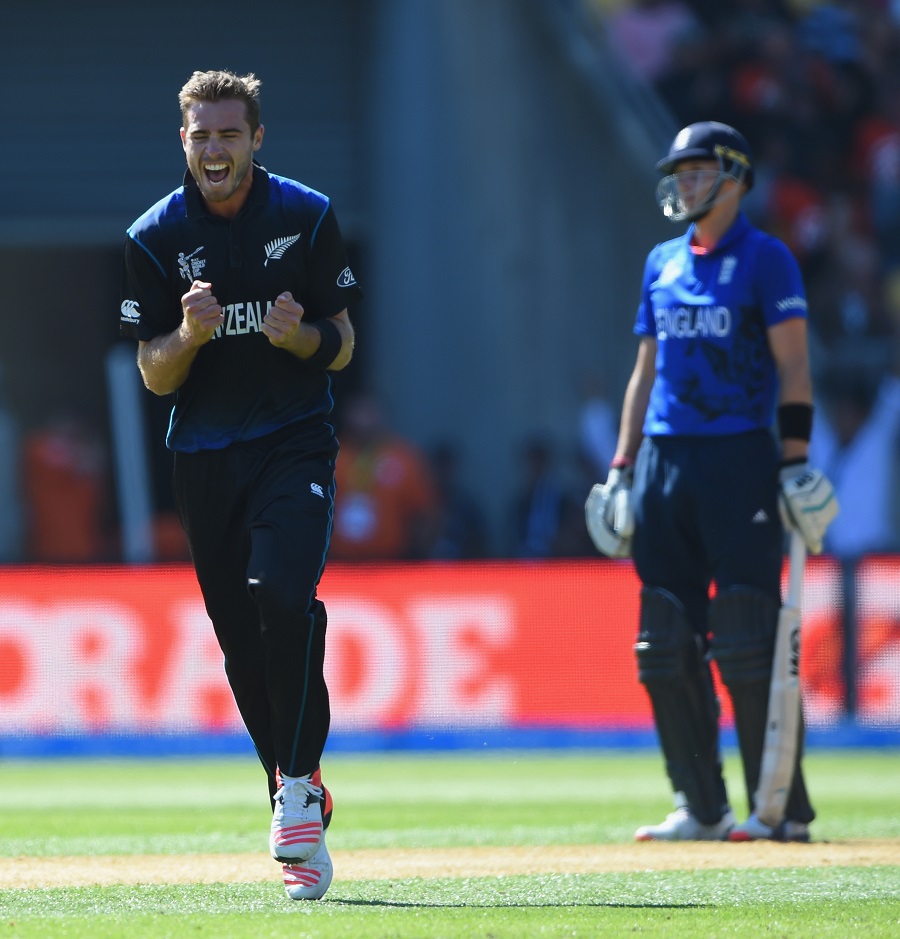 Here is a list of records that were re-made or broken in this match:
3rd in the Silver Club – Tim Southee became only the 3rd bowler from New Zealand to take a 5-wicket haul in a world cup game. Others: Sir Richard Hadlee vs Sri Lanka in 1983 and Shane Bond vs Australia in 2003.
2nd in the Golden Club – Tim Southee's bowling effort was the second time only in the history of world cups that a bowler from New Zealand took 6 or more wickets in a match after Shane Bond vs Australia in 2003.
1st and the Only One – Tim Southee has become the only bowler from New Zealand to take a 7-wicket haul in a World Cup game.
4th in the Elite List – Today is only the 3rd time in entire bowling history of the world cups that a bowler registered a 7-wicket haul.
3rd from the Top – Tim Southee's career best figures of 7/33 are the 3rd best bowling figures in a World Cup game.
Best Bowling Figures in a World Cup game
Bowler
Figures
Opposition
Year
Glenn McGrath
7/15
Namibia
2003
Andy Bichel
7/20
England
2003
Tim Southee
7/33
England
2015
Winston Davis
7/51
Australia
1983
GJ Gilmour
6/14
England
1975
Ashish Nehra
6/23
England
2003
Ridiculously Poor Batting – 4 of the 6 Top Bowling performances in a world cup game have come against England.
Poor but not Poorest – England's 123 is their 3rd worst all out batting display in a WC game; Worst being 93 all out vs Australia at Leeds in 1975.
Fastest in History – Brendon McCullum's 18-ball fifty is the FASTEST half-century in a World Cup game beating his own record he set in 2007 vs Canada off 20 balls.
Fastest World Cup 50s
Batsman
Balls to 50
Opposition
Year
Brendon McCullum
18
England
2015
Brendon McCullum
20
Canada
2007
Mark Boucher
21
Netherlands
2007
Mark Boucher
22
West Indies
2007
The 300 Club – Only 3 batsmen have been able to score 50+ in an ODI innings at a strike rate of 300 or more. McCullum's strike rate of 308.00 was the 2nd Best such effort in ODI History and Best for a World Cup game. Highest: AB de Villiers 338.63 vs West Indies, 2015
Most in a chase – Brendon McCullum hit 7 sixes, the most by anyone while chasing a target in World Cup history.
Smashed – Steven Finn was scored at 24.50 runs an over from his two overs; Worst economy rate for a bowler bowling atleast 2 overs in an ODI match. Interestingly, the top 3 have come against New Zealand.
2nd Best – New Zealand beat England with 226 balls left; jointly 8th best win margin in a WC in terms of balls left, 2nd best for New Zealand. However, their best against a Test side.
Heaviest – 226 balls; England's joint-heaviest ODI defeat in terms of balls remaining.