Stats Highlights from Pakistan vs United Arab Emirates World Cup Match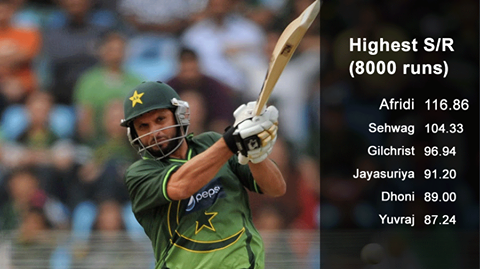 339 Pakistan's total, their second-highest in a World Cup game; their best is 349, against Zimbabwe in Kingston in 2007.
160 The partnership between Ahmed Shehzad and Harris Sohail, Pakistan's fourth-best in a World Cup game. The highest is 194, between Saeed Anwar and Wajahatullah Wasti, against New Zealand in the 1999 World Cup.
39 Balls taken by Misbah-ul-Haq for his half-century, the second-fastest of his 41 fifties in ODIs. The only time he scored a faster 50 was off 36 balls, against Zimbabwe way back in January 2008 in Karachi. The scorecards for both games are remarkably similar – one opener dismissed for 4, all the other batsmen scoring runs, and Pakistan getting 347. That was also Nasir Jamshed's debut ODI, and he scored 61 off 48.
4 Number of 50-plus scores for Shehzad in his last nine ODI innings, including a century. He averages 42 during this period, at a strike rate of almost 76.
124 Runs scored by Pakistan in their last ten overs, the 12th time in this tournament that teams have scored 100 or more runs in the last ten. In the entire 2011 World Cup, it happened only six times.
16 The number of 300-plus totals in this World Cup. This equals the number of 300-plus scores in the 2007 World Cup, and just one short of the record, 17 in 2011.
4 Number of Pakistan batsmen who've scored 8000 or more ODI runs – Shahid Afridi is the fourth, after Inzamam-ul-Haq, Mohammad Yousuf and Saeed Anwar. Overall, 27 batsmen have achieved this feat. Among these 27 batsmen, Afridi has the best strike rate (116.86), and the poorest average (23.58).
2 Number of Pakistan batsmen who've been dismissed in the 90s in World Cup matches. Apart from Ahmed Shehzad, who scored 93 today, Zaheer Abbas is the only batsman, though he got out in the 90s twice – for 97 against Sri Lanka in 1975, and for 93 against West Indies in 1979.
4 Number of Pakistan openers who've scored more than 93 in a World Cup game. The only ones are Saeed Anwar, Rameez Raja (three times each), Aamer Sohail (twice), and Imran Nazir. All nine times they passed 90, they went on to score a century, with Nazir's 160 against Zimbabwe in 2007 being the highest of the lot.
17 Pakistan's average opening stand in their last eight ODIs. Their partnerships during this period are: 10, 1, 0, 11, 111, 0, 0, 3.
3.15 Pakistan's average run rate in the mandatory Powerplay overs in this World Cup, which is the poorest among all teams. They've also lost eight wickets during this period, and average 15.75, also the lowest among all teams. New Zealand have the best run rate in the mandatory Powerplays (8.50), while Sri Lanka have the best average (62.33).