Bangladeshi hackers take over Shashi Tharoor's website to remind Indian team of World Cup history
In a slightly bizarre act of cyber terrorism, Bangladeshi hacker group 'Black Hat Hackers' invaded the website of Congress MP and former Union Minister Shashi Tharoor to remind the Indian cricket team of their 'history' against the Bangladesh team in World Cups.
The two teams are scheduled to take on each other for a place in the semi-final in Melbourne on Tuesday. India have a 24-3 record against Bangladesh across all competitions, but a 1-1 record in World Cups.
The hackers warned India to 'watch your history', pointing to India's shock loss to Bangladesh at the 2007 World Cup which eventually led to the team's elimination from the tournament, and the Asia Cup loss in 2012.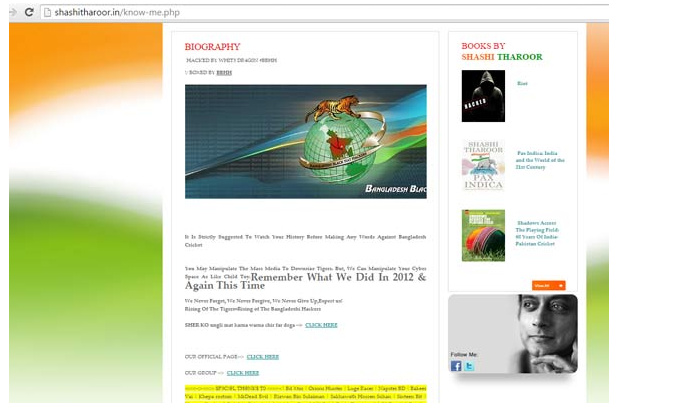 On the hacked page, there is also a link to the group's Facebook page, which reveals that the miscreants have hacked a number of Indian websites in the past 24 hours.
A visit to most of these hacked web pages reveals a picture of the Bangladesh team with the information that the website has been hacked in revenge for the 'Mauka Mauka' ads on Indian TV. Some other websites show an 'Under Maintenance' message.
The hackers threatened to 'manipulate cyber space' in India because of a notion that their national team were being 'downsized' by the Indian media.
Why Tharoor was a target for the miscreants can be pinned down to a few tweets he had made on eve of the Bangladesh-England quarter final, in support for the Asian nation – who he preferred as India's quarter-final opponents over England.