Why Dale Steyn will not waste few balls in a Bangladesh match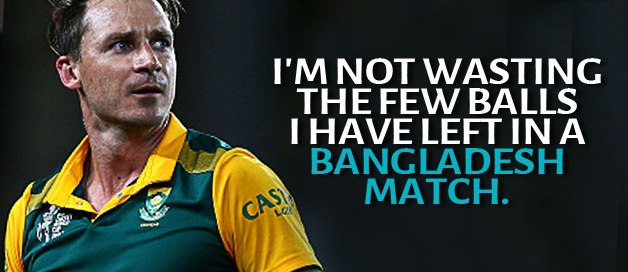 South African pacer Dale Steyn may not be available for the team's tour of Bangladesh in July this year. Steyn, the 31-year-old right-arm pacer says that he would rather preserve himself for bigger tournaments and Test cricket, rather than 'wasting a few balls' he has left in his career in a Bangladesh match.
Steyn, in an interview to Wisden India said he wants to help the next generation of the South African bowlers, and he would rather go to Bangladesh for helping them.
"At this stage of my career, I'd rather be saving myself to go and participate in the major tournaments, rather than wasting the few balls I have left in my career in a Bangladesh match. I'd rather go to Bangladesh to help and support future South African bowlers, and use what is left of the 10,000 or 20,000 deliveries that I have left in my body for the big tournament," Steyn said.
Steyn says he realises he will have to preserve his best for World Cup tournaments, and at the same time, he also wants to play a lot of Test cricket.  "It might sound very cocky or naïve of me, or self-centred, but I want to win a World Cup for my country. And they only come around once every four years. If you're playing in the Twenty20 World Cup, luckily they come around every year," Steyn said.
"So with all due respect to places like Bangladesh or Zimbabwe, going and playing three ODIs in Bangladesh does nothing for my confidence as opposed to knowing that I'm going to a World Cup," he added.
He continued, "That's where I'm at personally. But at the beginning of my career, I would have done everything. I would have gone every tournament and to every place. But I've done it all now."
South Africa's tour of Bangladesh 2015 begins on July 5 with first Twenty20 International. The Protea will be playing a two-match T20I series, followed by three-match One-Day International (ODI) series and then two Tests.
Source: CricketCountry